Join us this coming Friday on StillStream.com for the world premiere of the 3rd Relaxed Machinery release: Chris Russell – Frozen!
I'm very proud that the owner of StillStream, Darrell Burgan, has agreed to play Chris' album from start to finish during his Friday night program, Blue Water Drift Dive. I'm betting that Darrell will start the album sometime during the first hour – maybe around 10:30 pm CDT. The show normally runs until 1 or 2 am.
Below are a couple of full length preview tracks, where to buy the download or CDR, and the press release.
Thanks for reading, and I truly hope you join us this Friday. Most of the Relaxed Machinery artists will be in the StillStream chat during the show.
John
Chris Russell – Frozen is now available as a download and as a CDR.
Chris Russell – Tundra by Relaxed Machinery
Chris Russell – Time Lost by Relaxed Machinery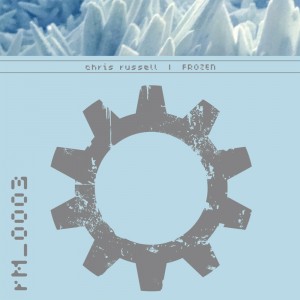 artist: Chris Russell
album title: Frozen
label: Relaxed Machinery
catalog #: rM_0003
release date: July 13, 2010
music style: ambient
.: about the release :.
Frozen recalls the stillness and silence of a winter snowfall transitioning into spring, celebrating the rebirth and renewal of life.
01 aurora – 6:42
02 thaw – 7:19
03 time lost – 7:45
04 tundra – 8:41
05 numb – 9:19
06 frozen – 4:02
07 otzi – 11:52
08 slowly drifting – 6:43
In Chris' words: "I always look forward to the winter solstice for the solitude and chance for renewal that it brings. As soon as the snow falls, I usually hunker down for months and long recording sessions take place. For the album Frozen I wanted to get a head start and had to go to a headspace to create these frigid sound zones. I have many pictures and memories of winter so it was not hard to do – the music came drifting out. I tried to create sonically the stillness and silence of the winter snowfall. Also, the passage into the beginning of spring the rebirth and renewal of life."
Frozen was recorded between June 2009 and March 2010. Mixed and recorded by
the artist.
Photography: Chris Russell
Design: Steve Brand
.: about the artist :.
Chris Russell has been recording ambient music since 2000. He's recorded the score to an indie horror film as well as playing in several bands over the years. His music is influenced by nature, the future, the ebb and flow of life, conspiracy theories and hidden esoteric knowledge. He has released two albums on AtmoWorks: Aralu and Merge. Both were released in 2009.
Chris currently lives in Illinois.
.: about the label :.
Relaxed Machinery focuses on "organic .: ambient :. techno", music made by hand from the heart using the instruments and tools the artists love. It was launched in January 2010 as a way for ambient and electronic artists to thrive and get noticed above the vast ocean of music releases. All artist receive 100% of their releases, and in a sense, have joined together to "self-release" …together. This music business paradigm shift blends "label" and "artist collective" in a seamless way to benefit all artists involved.
Relaxed Machinery is owned by John Koch-Northrup, who previously co-owned AtmoWorks and has helped with web design for labels such as The Foundry and Green House Music. John has released music as "Interstitial" in the past, and will be releasing under his own name on Relaxed Machinery.
.: links and contact :.
Relaxed Machinery info: http://relaxedmachinery.com
Relaxed Machinery Community: http://relaxedmachinery.ning.com
Contact John Koch-Northrup: jkn@johei.com