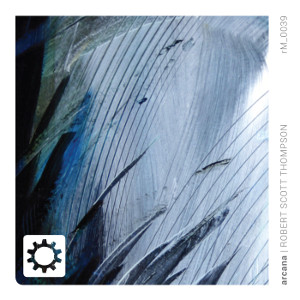 Robert Scott Thompson: Arcana 
Relaxed Machinery
Textura: http://textura.org/reviews/thompson_arcana.htm
Electroacoustic composer Robert Scott Thompson has built up an impressive discography over the years, which might make it difficult for someone coming to his music for the first time to know where to begin. As it turns out, his latest collection, Arcana, would seem to be as good a point of entry as any for a couple of reasons (even if Thompson himself cites The Silent Shore, Frontier, andAt the Still Point of the Turning World as Arcana's kin): its breadth, for one, given that its nine pieces cover many of the stylistic bases touched upon in his previous recordings; and quite simply its quality, as the material is at the same high level in terms of compositional writing and sound design as his best work.
Issued on ambient composer Steve Brand's Relaxed Machinery imprint rather than Thompson's own Aucourant Records label, Arcana is, according to its creator, an example of "classical ambient," a style of long standing that emphasizes languor, nuance, and subtlety over epic, beat-driven structures in its arrangements of synthesized and acoustic—prepared piano among them—elements. But while percussion might play a lesser role on the seventy-minute set, it's not wholly absent as Stuart Gerber is credited with contributing percussion samples and performances to the album.
Regardless of the ambient character of the material, Arcana 's tracks, each one a distinct world from the others, overflow at every moment with detail and incident. The seeming pluck of a string instrument (though it may well be a keyboard) drifts across the oceanic expanses of the shimmering title track, for example, whereas cowbells tinkle o'ertop a base of synth washes and cavernous rumbles within "Night Has a Thousand Eyes." During "Liminal Worlds," wordless choral voices intone amidst sparse Rhodes patterns and echo-laden synthetic flourishes, while an Asian character seeps into the material during "Last Hours of Ancient Sunlight," arguably the album's most sonically rich soundscape.
Many a setting is peaceful, but there are some, such as "Imagination is Memory," that suggest geological force of towering strength and magnitude, and the piano-heavy exploration "Unwoven" is similarly unafraid to wade into dissonant waters. In Thompson's ponderous scene-paintings, icy sheets of sound stretch themselves across immense, flat surfaces. Don't be thrown off by the ambient label associated with his music: listening to these mist-cloaked electronic landscapes proves to be a compelling and rewarding experience.
July 2014