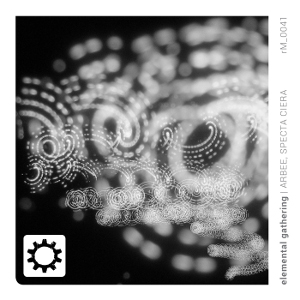 A very lovely review from A Closer Listen on Arbee / Specta Ciera – Elemental Gathering.
http://acloserlisten.com/2014/07/06/electronic-observations-4/
arbee is Mathieu Lamontagne from Quebec, spectra ciera is Massachusetts-based Devin Underwood. Both are prolific electronic artists with a taste for collaboration in their work, with a string of shared credits behind them, although this is their first outing together. They've never met but thanks to a decent broadband connection and a dose of inspiration they've madeElemental Gathering, a combination of new age-style whooshy synths and taut electro-inspired funk laced through with a good amount of dubby space. It's an understated release and takes a few plays to get under the skin but when it works, it works beautifully – "Pomme Grenade" has just the right amount of whoosh over a muscular yet dialled back rhythm pattern, "En Pleine Ascension" is a slice of dub techno that gets surprisingly dense before stripping the elements away again for maximum impact. It doesn't all flow – it might have been wise to have found "Turn Around" a home elsewhere – but overall it's a high strike rate. Score another for the internet.