I've had a couple of people reach out to me about releasing something in 2018.  Awesome.   Great to hear from old friends!
The new Relaxed Machinery will be a centralized label meaning it won't be "self release… together" as we did the first 6 years.   I'm pulling it in and streamlining.   As always, the goal is to be a friendly partnership between rM and the artists.
I don't think I'm going to keep the "cover art templates" like we did every year in the past.   Steve did such a cool job with those, but I think I'm going to keep it simple and have full edge to edge cover art for each album.
Standard releases will be digital on Bandcamp and distributed to digital outlets for sale / streaming.   However, special releases may be in different formats.
THE COG IS NOT GOING AWAY!   A lot of people have commented that I need to keep the cog – I never planned to drop it.  My posts and testing tagline just haven't shown it.  It will evolve a bit, but that's a long way from complete.
Taglines.  I still love the original tagline:   organic .: ambient :. techno
However, it feels limiting to me so I've been pondering it the last few weeks.  I floated a joke around the other day…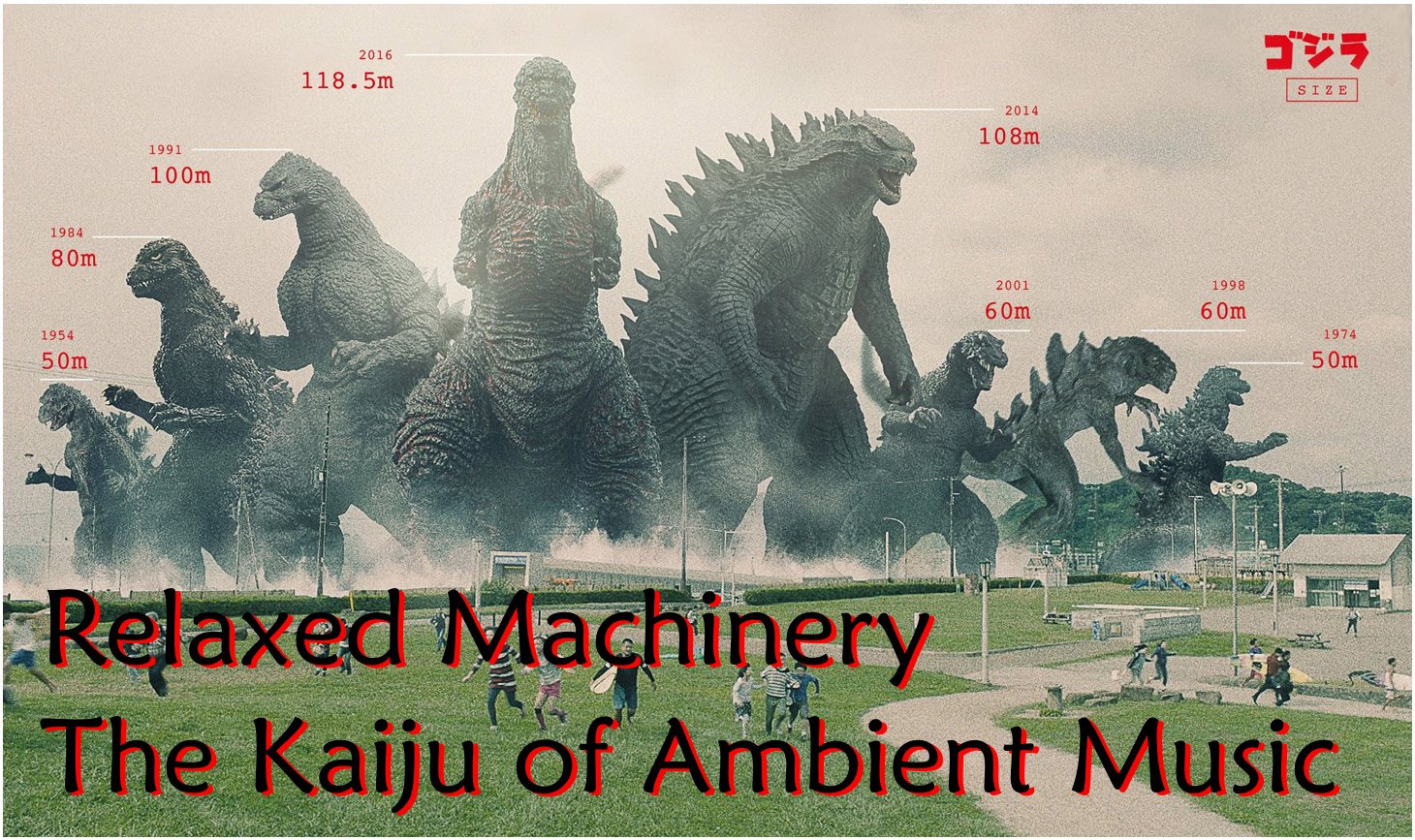 Yes!  I was kidding, but it was darn fun.  I'm a fan of old Godzilla movies.  🙂
A little more serious version – but still not the right thing… it's a bit wordy but it explores all the aspects I see the label representing.  Ignore the font and background image:

"Adventured in…" reminds me of the old 1950's radio show X Minus One intro:
Countdown for blastoff… X minus five, four, three, two, X minus one… Fire! [Rocket launch SFX] From the far horizons of the unknown come transcribed tales of new dimensions in time and space. These are stories of the future; adventures in which you'll live in a million could-be years on a thousand may-be worlds. The National Broadcasting Company, in cooperation with Street & Smith, publishers of Astounding Science Fictionpresents… X Minus One
"Cinematic Vistas" represents the soundtrack music that truly inspired my love of music that I found out to be later called "ambient".   And then "Deep Kinetics" represents the movement and the beats.
However, it's just too long!
My wife and I have been bouncing this around and we may have a good idea on how to make this tagline be a better description of the label and of each release.
More on that in a future post.
John