Medicine Man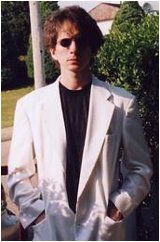 Artist Web Site: Click Here
Contact This Artist:&nbsp: Click Here
Medicine Man is Pennsylvania electronic, hip hop, and ambient artist Robbyn Trappen's ambient music project.

In 2003, he began making various forms of electronic music, moving through stylistic changes from trance to electronic classical and finally to ambient, where he felt he finally found his niche. Since then he has been making ambient music, both as a solo artist as well as in collaboration, although he still makes hip hop beats in his spare time, occasionally in fusion with ambient music.

The name Medicine Man came from a friend, but Robbyn felt it worked well since "a lot of the music I produce is very different than the mainstream and is brought out by the mess that goes on under the surface of my mind". His influences include artists as diverse as Toby Emerson and Dr. Dre, but include the entire Hearts of Space label.

Medicine Man makes music using a variety of software and hardware tools, including FL studio, EWQL Colossus, Absynth, 3 keyboards, a tape deck, and "various other stuff".

Earth Mantra is happy to present the music of Medicine Man to our listeners and hope that there will be other releases from this great artist in the future.
Earth Mantra Releases By Medicine Man