Darkened Soul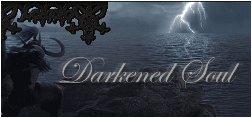 Artist Web Site: Click Here
Contact This Artist:&nbsp: Click Here
Darkened Soul was formed in April of 2002 as a creative outlet for talented graphic and music artist Michael Soucy. He had wanted an outlet for Dark Ambient/Industrial/Martial/Noise music for some time and one day decided to take a shot at it. The artist has no desire for notoriety; he provides this music purely for his own enjoyment and hopes others enjoy it as well.

Darkened Soul is primarily a solo project, however he is also collaborating with artists like Until Death Overtakes Me, Ashtorath, and VLE. Mike looks forward to some dark mysterious, disturbing music to come forth from these collaborations.

Mike's studio approach is currently based upon samples, loops, Ableton Live, Sound Forge, assorted VSTi's, Korg Triton Extreme and a Roland V-Synth. He has several releases, including Bathys, available on Hypnos Recordings. Of course, he also has a superb Earth Mantra release, and we hope to bring many more of Darkened Soul's stunning albums to our listeners.
Earth Mantra Releases By Darkened Soul