Allen Goodman and Darrell Burgan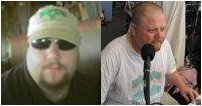 Contact This Artist:&nbsp: Click Here
Allen Goodman and Darrell Burgan are two ambient and electronic artists who often perform live music together on ambient net radio station StillStream.com.

Allen Goodman is an Arizona native who began composing ambient music under the name Desert Mystic only a few years ago. He blends numerous genres, including a strong Berlin school influence, into his electro music, incorporating huge synth beds and processed electric guitar into a lush wall of sound. When not making studio music, Allen can be found hosting Ambitar Radio on StillStream, where he often performs live improvisations for his fans.

Darrell Burgan is an ambient artist hailing from Texas who, in addition to his work with Allen, releases music as part of Copal River, ambient trio Cluster Balm, as well as his own solo music under the name Palancar. In addition to these projects, Darrell is working on numerous other collaboration projects with several other great artists.
Earth Mantra Releases By Allen Goodman and Darrell Burgan