Metlay!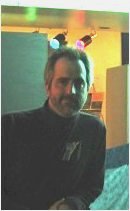 Artist Web Site: Click Here
Contact This Artist:&nbsp: Click Here
Mike Metlay is the founder and sole owner of electronic label Atomic City, the leader and organizer of Team Metlay and mindSpiral, the leader and organizer of electronic music festival Different Skies, and a solo artist who releases music under the name Metlay!

He left behind a career as a nuclear physicist many years ago, but not until after he'd developed the ideas and environment of Atomic City during his years of travel to atomic installations like Oak Ridge's Building 6000 in his quest for a Ph.D.

These days Mike works as Editor of Recording Magazine, an internationally acclaimed music technology periodical. His job now consists of playing with cool new audio toys and writing about them. Life's tough.

Mike was raised in Pittsburgh, a city he loves dearly and would like to return to someday. He is an alumnus of Oberlin College (Arts and Sciences, Class of 1983), and received his Ph.D. from the University of Pittsburgh in 1992. He and his wife Suzanne, who teaches at Front Range Community College, currently live near Boulder with their two daughters, Julia and Alexandra (Lexie).

Mike is one of the true visionaries of the electronic music realm, and Earth Mantra is very excited to bring his music to our listeners.
Earth Mantra Releases By Metlay!