Incandescent Void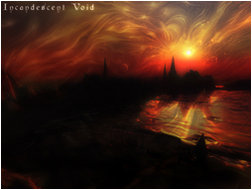 Artist Web Site: Click Here
Contact This Artist:&nbsp: Click Here
A Dark Ambient project by Australian Kyle Pattrick, Incandescent Void aims to evoke a multitude of atmospheres, thoughts and themes through varying textures and frequencies, projecting scenery, intrigue and concentration upon the focused listener. Many themes are explored or suggested by the ambience - the sounds of the universe - and are open to interpretation by the listener.

The project began in 2007 and seeks to present to the listener both a voidless void and a shimmering void, somewhat like the essence of space. The music aims to transport the listener into the realms explored, from searing through the fog of a distant planet, delving into an ageless sentience, or being confined to a devastated earth (full of horror).

Earth Mantra is very pleased to bring you the music of this extremely talented ambient artist and looks forward to more releases in the future.
Earth Mantra Releases By Incandescent Void