Tone Ghost Ether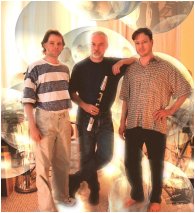 Artist Web Site: Click Here
Contact This Artist:&nbsp: Click Here
Inspiration struck without warning and an ensemble was born. Tone Ghost Ether was realized through a natural interaction between three musicians searching for a common form of expression. Legendary progressive rock and ambient artist Kit Watkins, together with brilliant instrumentalists John Tlusty and Brad Allen, combined their talents to produce this amazing, genre-spanning music. By means of a series of informal improvisational gatherings, recorded on Sunday afternoons in early 2001, Tone Ghost Ether produced what were to become their pioneering CD releases -- elegant and tonally rich musical excursions into the future.

All of the music by Tone Ghost Ether was improvised and played in real-time without overdubs. The use of live looping devices contributed to the often densely textured sound. Minimal editing was sometimes performed after recording, but the nature of the immediacy of this music remains intact.

The style of Tone Ghost Ether falls naturally into a number of familiar pigeonholes: ambient, acid jazz, world fusion, and electronica, but explores hybrid genres where mind-trips and alien worlds might only exist within the imagination, later to materialize beyond the realm of possibility. Earth Mantra is proud to bring you the music of these phenomenal artists.
Earth Mantra Releases By Tone Ghost Ether