John DuVal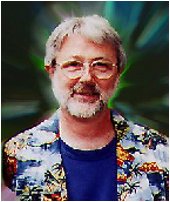 Artist Web Site: Click Here
Contact This Artist:&nbsp: Click Here
John DuVal is a professional musician with literally decades of experience in bringing a variety of musical forms to his audiences. A member of the electronic supergroup Dweller at the Threshold, John is also reknowned for his solo music, both in the electronic/ambient realm and in more traditional forms.

A world-class guitarist, John is also the the one-time owner of one of the largest Serge analog modular systems ever assembled, a system nicknamed Fist of God. We have seen pictures of this beast, and believe us when we say that the name is completely appropriate. John is also widely regarded for his 2003 seminal analog modular epic entitled Hell's Canyon, which is very nearly the textbook example of a perfect analog modular sound painting.

Hell's Canyon was the first in a series of recordings using older analogue voltage controlled instruments. John's appoach is one of improvisation with emphasis given to soundsculpting and sonic paintings of imaginary realities. Earth Mantra could not be happier to be bringing the music of this stellar artist to its listeners, and we look forward to continuing releases from John in the future.
Earth Mantra Releases By John DuVal