John H. Lewis and Darrell Burgan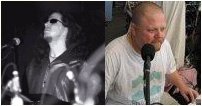 Artist Web Site: Click Here
Contact This Artist:&nbsp: Click Here
John Lewis and Darrell Burgan are two electronic ambient artists who have collaborated multiple times over the past six years.

John Lewis is a New Jersey based electronic ambient artist and keyboardist extraordinaire who is well regarded for his solo music as FootFall as well as his work as keyboardist for the pop/rock band Second Story. Greatly inspired by the sonics of synthesizers and other electronic instruments, in the late 1990's he began to express some of the music in his head that he realized could never be expressed in an ensemble environment. Although he enjoys many diverse styles of electronic music, he has always been most inspired by ambient and space-related genres.

Darrell Burgan is an ambient artist hailing from Texas who, in addition to his work with Allen, releases music as part of Copal River, ambient trio Cluster Balm, as well as his own solo music under the name Palancar. In addition to these projects, Darrell is working on numerous other collaboration projects with several other great artists.
Earth Mantra Releases By John H. Lewis and Darrell Burgan