Alex Tiuniaev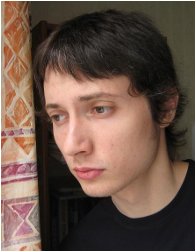 Artist Web Site: Click Here
Contact This Artist:&nbsp: Click Here
Alex Tiuniaev is a composer, producer, and performer from Moscow, Russia. Having released the highly-acclaimed album I Knew Her on the famous independent UK label Cold Spring Records at the ripe old age of 22, Alex is currently working on many different projects, producing electronic and mood music, composing and arranging as well as collaborating with other electronic and rock musicians from around the globe.

Tiuniaev released his debut record Artificial Symphony on OtterSong Records in 2005. The album featured melodic electronic compositions ranging from classical to new age to ambient pop and new wave. A year later, in 2006, Alex collaborated with his friend John Luttrell from California, USA on an ambient rock record, Falling, released by the duo under the name Garden Hose Universe. The release featured six soulful songs influenced by Brian Eno, David Sylvian, Peter Gabriel, and Coldplay.

In 2007 and 2008 Alex collaborated with Celeste Terrell, a folk-rock artist from Texas, USA. The two of them worked on Celeste's debut release, Live Your Dreams. In addition to arranging strings and providing electronic backdrop, Alex co-produced the record and even contributed one song of his own, North. The album was released in October 2008.

Currently Alex is working on several electronic and ambient records as well as collaborating with John Luttrell on the new Garden Hose Universe release.

Earth Mantra is proud to call someone of Alex's caliber one of our artists, and we look forward to releasing more of his intriguing ambient music in the future.
Earth Mantra Releases By Alex Tiuniaev