Spheruleus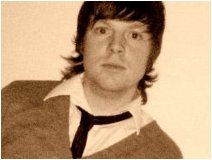 Artist Web Site: Click Here
Contact This Artist:&nbsp: Click Here
Spheruleus is British musician and producer Harry Towell, who releases ambient music in the drone, dark ambient, and musique concrete subgenres, under the project names Audio Gourmet, Eyes Flutter Beneath, and now as Spheruleus. He creates ambient textures designed chiefly to be listened to at low volume for quiet contemplation.

His first EP was released on Webbed Hand Records; since then he has released three subsequent albums on that netlabel. His first venture away from Webbed Hand was with Phantom Channel.

Harry typically uses his own field recordings in all of his album-length projects, feeling that it adds a personal touch to his soundscapes. He has been experimenting with electronic music production for over six years. Since 2007, he has been focusing more and more on ambient/drone genres. In the future, Harry plans to pushing his music in new stylistic directions, incorporating new ideas and techniques along the way.

He is not classically trained, but he has a great ear for hearing sound holistically. His works are less geared towards traditional forms and more oriented towards soundscapes and ambient washes.

Harry runs a simple and light-hearted blog site, that publishes his adventures in music. He has very wide musical tastes, and on the blog you will find all sorts of tracks, albums, mixes and ideas -- a sort of scrap-book chronicling his travels through the world of sound.

Earth Mantra is very pleased to be bringing our listeners the music of this superb artist and hope there will be continued music from him for our listeners in the future.
Earth Mantra Releases By Spheruleus