Joe McMahon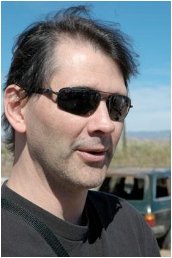 Artist Web Site: Click Here
Contact This Artist:&nbsp: Click Here
Joe McMahon is an American solo electronic artist now living in Silicon Valley in California. His music fuses influences from many diverse parts of the musical spectrum, and he counts among his influences Karlheinz Stockhausen and Bület Arel, Gary Burton and Pat Metheny, Brian Eno, Frank Zappa, and Laurie Anderson - combining improvisation and process into music that is both written and discovered.

Joe currently works at Yahoo!, building tools for the software developers.

He is originally from a tiny town in West Virginia. His musical life changed forever after hearing the opening note of Carlos' "A Clockwork Orange" soundtrack, after which Joe promised himself that someday he'd have a synthesizer and make sounds like that. He moved to Washington, DC after college to work for NASA, and in the late '80's found his way onto the Internet. He co-moderated the EMUSIC-L and SYNTH-L Bitnet mailing lists for ten years with Mike Metlay, and was a member of Team Metlay for the Ballistic sessions. His first CD, Shatterday, was released on Atomic City Records in 1995; his first live performance as a synthesist was at Different Skies 2007.

Earth Mantra is very proud to bring its listeners the music of Joe McMahon, and hopes to bring more of the music of this superb artist to our audience in the future.
Earth Mantra Releases By Joe McMahon