Phillip Wilkerson and Tange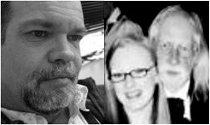 Artist Web Site: Click Here
Contact This Artist:&nbsp: Click Here
Phillip Wilkerson and Tange are two ambient/electronic artists who have collaborated on ambient music released here at Earth Mantra.

Phillip Wilkerson is a prolific musician who has been releasing lush musical journeys with spacious, swirling atmospheres. Sometimes dark and moody and other times light and ethereal, Wilkerson's atmospheric and minimalist-inspired approach weaves a soundscape around the listener's ears, creating an evolving, submersive sonic experience.

His work is available on the Earth Mantra, Clinical Archives, Just Not Normal, Treetrunk, and Drone Download Project netlabels, as well as from digital stores throughout the world.

Gordon Macmillan, is a Scottish electronic artist who releases stunning ambient music under the project name Tange.

Gordon is heavily influenced by Berlin School electronica, but his creations cross numerous subgenre boundaries and can never be pigeonholed into a single stylistic construct. His work is available here on Earth Mantra, and he can also be heard each week on his radio program Mysterious Semblance at ambient net radio station StillStream.com.

We at Earth Mantra are very proud to be presenting the collaborative music of these two brilliant artists, and hope they keep on collaborating, for the music they make is sublime indeed.
Earth Mantra Releases By Phillip Wilkerson and Tange