Tony Gerber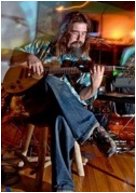 Artist Web Site: Click Here
Contact This Artist:&nbsp: Click Here
Musician, composer, visual media artist, record-label entrepreneur and virtual world music icon -- Tony Gerber has proven to be the Renaissance man of Nashville's music underground. Prolifically creative, Gerber has helped broaden Music City's artistic palette. As a member of the trailblazing electronic music band SPACECRAFT, owner of the Internet-based Space for Music record label and most recently as his premier Second Life music mogul, Cypress Rosewood, Gerber has helped popularize space music across the United States, Canada, Europe and far reaches of the globe through his prolific musical releases and hundreds of live internet broadcast concerts online and into the virtual world platform.

Gerber's Space for Music project began in 1985 as a listening group following the weekly radio broadcast of Music From the Hearts of Space. The space music genre was just beginning to take shape, influenced by the groundbreaking ambient works of Brian Eno, Krautrockers like Kraftwerk, and electronic artists like Cluster. A year later, Gerber organized the first of several multimedia performances he called Space for Music, featuring computer visuals, theatrics and live music. In 1986, Gerber built one of Nashville's first MIDI recording studios for the legendary Al Jolson's son and then in 1988, Gerber formed Space for Media, a high-tech multimedia and music production house utilizing Macintosh computers. Among the artists associated with the facility were Gerber, Neal Merrick-Blackwood, Giles Reaves, Kirby Shelstad, and Aashid Himons.

Gerber's interest in electronic music was not a casual one. Growing up in Indiana, Gerber's grandfather gave him a guitar at the age of seven, which he taught himself to play, emulating his first musical heroes, the Beatles. The gift of a copy of Wendy Carlos' Switched-on Bach from a fifth-grade music teacher and a theremin brought home by his father in 1971, opened Gerber's eyes to an entirely new world of music, however. A fascination with electronic gadgetry led to Gerber building his first synthesizer at the age of 14, and Gerber subsequently taught himself to play keyboards, theremin, banjo, harp, and saxophone.

From the late '80s through the '90s, Gerber pursued his musical interests, releasing a series of regionally distributed cassettes that showcased Gerber's growing skills both as an electronic artist and as a talented guitarist with jazz and classical overtones. Recorded during a solar eclipse in 1986 with William Linton and Mason Stevens, Cosmic Flight would be one of the albums (the other being Giles Reaves' Wunjo) that would place Nashville on the space music map. Cosmic Flight received airplay on the popular Hearts of Space program on NPR and would subsequently open many doors for Gerber, leading to his work being used in independent films and performance-art pieces across the country, Canada and South America.

Many of Gerber's recorded works are the result of live performances, many of which take place in planetariums or outside, under the natural canopy of stars themselves. Several of Gerber's performances have been broadcast live on public radio in Tennessee, Kentucky, and Indiana and the subsequent recordings have received airplay on syndicated shows like Echoes, Hearts of Space and Musical Starstreams. In 2006, Gerber set up his own internet broadcast station and has performed over 600 live concert broadcasts out onto the web and into the virtual world of Second Life. A pioneer in the use of computers for creating music and graphics, Gerber has also consulted with Apple Computer and has given many speeches on art and technology. An accomplished visual artist and craftsman working with both computers and wood, Gerber has enjoyed exhibits sponsored by the prestigious Cheekwood Gallery in Nashville and the Visual Artists Alliance of Nashville.

The growth of the worldwide web during the early '90s had its appeal to the computer-savvy Gerber, who initiated the spaceformusic.com website in 1995 for the region's electronic artists. The website evolved into a "virtual" record label, with Gerber soliciting music from friends and other like-minded artists and selling CDs through the MP3.com website. The label accumulated over 70 titles during a three-year period beginning in 1999; the popularity of the "space radio" channel on MP3.com led to over 500,000 downloads during the same period. The label moved toward a "traditional" music business model in 2001, releasing CDs from SPACECRAFT and John Rose and distributing them through normal retail outlets. In 2002, Gerber formed an "on-demand" division of Space for Music, reissuing many of the early MP3.com CDs on high-quality CDR discs, which eliminated the need for costly inventory for a growing genre label with nearly 100 titles in its catalog.

Even while running a record label, Gerber continued to write and record music at an astonishing pace, a pace that has continued to this day with his pioneering activities in the virtual world -- activities that have built a musical legend with his project, Cypress Rosewood. Among Gerber's electronic music releases are Clearly Opaque (1988), Native Spirit (1990), Aural Overview (1992), Travelers (1993), Altamira (1999), Best Of (2000), Bonfire (2002), Flute Songs for Water (2006), Isle of Wyrms (2007), Asleep Amongst the Trees (2008), Ancestral Spirit (2009), Ethereality (2009) and Colour My Dream (2009), while Blue Western Sky (1995) and Guitarscapes (1999) help illustrate Gerber's six-string mastery. Gerber has also appeared on nine CDs as a member of SPACECRAFT, is a member of Aashid Himons' Mountain Soul Band, and has collaborated in the studio and performed live with experimental musicians such as John Rose, Christopher Blazen and the legendary Hans Joachim Roedelius. As the growth in popularity of the space music genre continues, Tony Gerber is one of the artists spearheading its movement toward the mainstream.
Earth Mantra Releases By Tony Gerber