Tange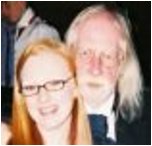 Contact This Artist:&nbsp: Click Here
Gordon Macmillan is a Scottish electronic artist who releases stunning ambient music under the project name Tange.

Gordon is well known as the host of a popular radio program on StillStream, and listeners of his program know that during his broadcast he often performs some of the finest live ambient music around, sometimes for literally hours on end. In addition to his live work, Gordon also releases studio albums, which have been very well received as well. Not only that, Gordon currently holds the record for the most gargantuan release ever made here at Earth Mantra, his humorously titled A Tub Full of Tange.

Gordon is heavily influenced by Berlin School electronica, but his creations cross numerous subgenre boundaries and can never be pigeonholed into a single stylistic construct. We at Earth Mantra are very proud to be presenting the music of Tange to our listeners, and hope that there will be much more to come from this great artist.

By the way, Gordon wants to be sure his listeners know that he's "the cute one with the long hair" ...
Earth Mantra Releases By Tange