Fosel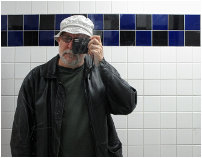 Artist Web Site: Click Here
Contact This Artist:&nbsp: Click Here
Fosel is Kurt Nimmo, an ambient and experimental artist who does not consider himself a musician so much as a sound designer.

Kurt was born in Detroit, Michigan, USA and migrated to Chicago in the late 1990s to persue a career as a web designer and programmer. Since then he has relocated to southern New Mexico and earns his keep as an editor, writer, and webmaster of a news portal website for a Texas syndicated talk radio show host. Kurt is now a telecommuter who works out of his home, and in whatever time he can carve out he indulges in musical sound creation and photography.

He began experimenting with sound circa 1998, producing straight electronica with a Yamaha synth and a drum machine under the name Eyes of Ibad, a reference to Frank Herbert's Dune and the saturation of the spice melange in the bloodstream.

A few of the tracks he produced at this time were used by a Chicago independent filmmaker. However, Kurt soon grew tired of electronica, in particular techno, and began experimenting with ambient music. A collection of his early ambient works is available on Jamendo.

During this time Kurt entered a long musical hiatus, which was only briefly interrupted by a soundtrack he did for a poet in 2005. However, in 2007 he began creating ambient again, with an album released on a Russian net label DNA Production. Since then he has released on several netlabels besides DNA Production, including Time Theory. Just Not Normal. Petcord, and now, Earth Mantra.

We are very proud to be bringing the music of this talented sound designer to our listeners, and hope to hear much more from Fosel in the future.
Earth Mantra Releases By Fosel