Combs Creek Haller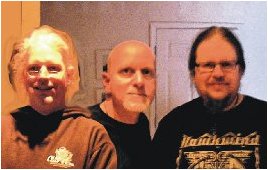 Artist Web Site: Click Here
Contact This Artist:&nbsp: Click Here
Jim Combs, aka Sensitive Chaos, was voted "Best Local Electronic Act" for 2007 and 2005 and Runner-up for 2009, by readers of Atlanta's Creative Loafing. Radio station KKUP 91.5 FM in Cupertino, CA selected his albums as the "Best Visionary Music of 2009 & 2007. The first song played on January 1, 2010 on NPR/XM Radio syndicated Hearts of Space radio program was an excerpt from Jim's Sensitive Chaos song Fifty Light Years From Home. And New Age Reporter awarded his first album as one of the "Top 12 Best Ambient/Spacemusic/Electronica Recordings of 2006". His ambient, down-tempo music is consistently played on radio stations around the world and has most recently been heard on Hearts of Space, Echoes, Space Station Soma FM and cliqhop IDM, and Stillstream.com. Jim is also the founder and coordinator for the City Skies Electronic Music events held monthly in Decatur, Georgia.

Jez Creek performs as Modulator ESP, an outlet for his improvisational electronic music. He composes using synthesizers, sequencers and samplers and spends far too much time on sound design. He likes a wide range of music from ambient electronica to thrash metal via all points between and tends to like weird or progressive stuff. He listens to music because it takes him away from the humdrum reality of everyday life and into new worlds of imagination. He plays music so he can design his own new worlds. He is happy to include in his musical influences such diverse acts as Airsculpture, Dream Theater, IQ, Jean Michel Jarre, Radio Massacre International, Redshift, Tangerine Dream and Yes. Jez is also a performing member of Astrogator, Cerberus and Quadra and does stuff for Awakenings, Neusonik, and Hampshire Jam 'Jam' musical events.

Kevin Haller's moniker for the variety of artistic and musical endeavors is Burning Artist(s) Sale. Alter egos include Killer Haven, a grizzled guitar slinging rocker that prefers to stay in his bunker making videos. KVpop writes catchy hooks, but until recently was too afraid to let friends or colleagues help him put finishing touches on his compositions. K love writes music intended for dance clubs old and new. eleK troniK is an ambient and experimental sound sculptor. Burning Artist occasionally performs as a solo artist (and is even sometimes usurped by Killer Haven), but prefers the dynamic of group interaction. Recent musical involvement has been with the Robert Cheatham Quartet, a regrouped BAS (with Barbara Vesey), both City Skies and Different Skies "All Star" jams, and a re-united Amalgamated Cliff Divers. Burning Artist is proud to have played at EYEDRUM's First Thursday Open Improv for more years than he can remember. Past bands have included GFE, Random Violets, Harper Fragment, Empty V, MASTERCOW, and TOAST.
Earth Mantra Releases By Combs Creek Haller