Slate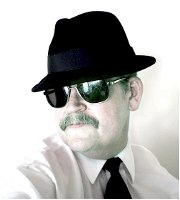 Artist Web Site: Click Here
Contact This Artist:&nbsp: Click Here
Professor Jonathan Wayne Mills is a composer of orchestral music, integrating electronic instruments and sounds from the world around him into programmatic and thematic pieces. He began his musical career in 2005, and now teaches a class at Indiana University, called 'Principles of Music and Programming', to non-music and non-computer science majors. The course relates the principles of music composition to computer programming and has proven very popular. He formed the Cardinal Skies Ensemble in 2010 to provide an annual performance venue for his students.

His music has been inspired by composers for film, particularly Alan Silvestri, classical composers including Bach, Dukas and Ligeti, and modern electronic musicians such a Terry Riley and Wendy Carlos. His taste is eclectic, though, and he enjoys anything, even noise. Tina Turner's performance of Addicted to Love live at the Wembley Arena in the UK is a favorite.

Mills is a member of the Different Skies Ensemble since 2008. He has been funded by Lilly, Inc. to perform at IU's ArtsWeek. He has released over 40 independent CDs, including Ylla, Pompeii - A Suite of 2000 Years, Arcosanti Suite, the eight-album Goddesses Cycle and the orchestral score for New Myths of Olympus. His recent experiments with mixed traditional and microtonal intonations (like Partch-Bohlen) have led to music that can literally make you ill. To learn how to control the effects of these unusual compositions, his research has led to the music and instruments of ancient Greece and medieval times, Nicola Vicentiono's explorations in microtonalism and his archicembalo, psychoacoustics, techniques used by the military in sonic weapons, and even urban legends such as the infamous 'brown note'. A collection of the best - or worst - of these pieces may be found his recent album MUSIKHAZARD.

Although not formally trained, Jonathan has been taught by some amazing music mentors. Lloyd "TJ" Jones, a blues guitarist for over 40 years, has encouraged him and criticized him patiently since 2005. TJ's first lesson was, "Don't drum the melody!" Today Jones says that Slate has found new depths in music because he does not know the rules, so that every piece he writes is like a short story with a surprise inside. Other mentors include David K. Herpich, Tidy Kid, Tim Walters, Mike Metlay, Jim Combs, Rus Foster, Greg Hurley, Janiece Jaffee, and all the members of the Different Skies ensemble.

Earth Mantra is proud to bring the highly original music of Jonathan Mills to our listeners.
Earth Mantra Releases By Slate