Lily Pond Orchestra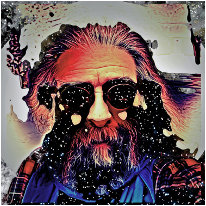 Artist Web Site: Click Here
Contact This Artist:&nbsp: Click Here
The late Douglas JP Lee (aka djpl) was an ambient artist who created lush symphonic ambient music as Lily Pond Orchestra. Born in and having lived in Andover, Massachusetts, USA, Douglas was a self-taught musician, composer and technician with an undying love for all things New England.

He became aware of electronic music at a very early age after seeing the classic science fiction movie Forbidden Planet. He played lead guitar in a plethora of bands throughout the 60's, 70's, 80's and early 90's. He began playing guitar at the age of 9 -- "because of the Beatles", according to Douglas -- and was playing in his first band by age 13.

Somewhere along the way, Douglas became very interested in music that "not many wanted to hear", such as Charles Ives, John Cage, Edgar Varese, and others, something he described as "landing very comfortably in the lap of the old Masters". Douglas was particularly intrigued by Varese and his use of prerecorded sounds melded with an orchestra. By carefully listening to the work of these and other artists, Douglas taught himself the rudiments of orchestral composition.

During this time, he began to dabble in electronic tape. learning to record, disassemble, and reconstruct swashes of sound with various mediums and much splicing. By the mid 1970's, he was studying electronics and began building a modular synthesizer ("a work that is still in progress from time to time"), and building effects boxes for guitar. With the advent of the digital age, he began composing his beautiful ambient music, directly in the computer.

It is with great pleasure that Earth Mantra has brought the music of Lily Pond Orchestra to our listeners. Doug is no longer with us, but his music lives on.
Earth Mantra Releases By Lily Pond Orchestra