Michael Sandler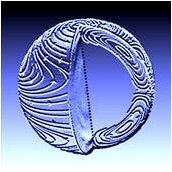 Artist Web Site: Click Here
Contact This Artist:&nbsp: Click Here
The music of electronic composer Michael Sandler ranges from cyclotronic guitar improvisations to dark drones to abstract sound architectures. Hailing from North Carolina in the USA, Sandler employs a variety of instruments and non-instruments in the creation of his unusual works. Sandler's music appeals to those seeking introspective ambient music with a sparse economy of sound and a dark edge.

He has been making electronic music since sometime in the 1990s. A refugee from prog rock attic bands and epic barn jams, Sandler has carved out a niche on the Internet ambient music scene with his minimal electronic aesthetic. His music also pops up from time to time on terrestrial radio. Michael has commercial releases available on the Blue Water and Dissonance labels as well as tons of free music on the Internet Archive.

His influences include such ambient/electronic staples as Klaus Schulze, Brian Eno, Harold Budd, and Steve Roach but are quite diverse, including artists such as BB King, Buddy Rich, John Coltrane, Ash Ra Tempel, Metallica, Cradle of Filth, Joe Satriani, and Enya.

Earth Mantra is very pleased to be bringing the music of this talented artist to our listeners and hope that there will be much more music from Michael Sandler.
Earth Mantra Releases By Michael Sandler