Killer Haven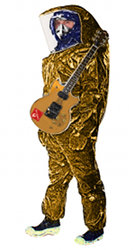 Artist Web Site: Click Here
Contact This Artist:&nbsp: Click Here
Killer Haven is the guitar slinging axeman of the Burning Artist(s) Sale.

After graduating from the now defunct Atlanta College of Art, Killer Haven immersed himself in the Atlanta, Georgia, USA local music and art scene. As well as having jobs at a museum and gallery, he was a board member of a non-profit arts organization. He was active in a few bands whose styles ranged from pure improv experimentalism to synth inflected pop.

As might be typical after such activity as a young man, Killer Haven eventually withdrew from public life. It was a chance meeting with a board member of that aforementioned arts organization that brought him out of hibernation, and back from a five year hiatus from music. It has been ten years that he has been attending the open improv mentioned at that chance meeting.

Recent musical activity has included performances at Kansas City Electro-Music, Different Skies, and City Skies festivals, as well as self-releasing more than a dozen albums ranging from early solo work to recent collabs, contributing to solo works by other personas of the Burning Artist(s) Sale, and a reformed Burning Artists Sale with Barbara Vesey.

Killer Haven has only one solo album released so far, as much of his time is spent "in the bunker creating video". Earth Mantra is very proud to be releasing the fascinating and boundary pushing music of Killer Haven, and hopes he releases much more in the future.
Earth Mantra Releases By Killer Haven