Somnarium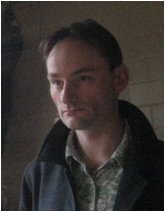 Artist Web Site: Click Here
Contact This Artist:&nbsp: Click Here
Somnarium is an ambient music project by Michael Meara.

Based in Melbourne, Australia, Michael has self-released ambient music since 2002. Influenced by folks like Steve Roach, Harold Budd and Stars of the Lid, Michael's approach focuses on pure ambient styles, typically drift and drone, with an emphasis on beatless composition.

He describes his work as mostly "in the vein of cold void space ambience or the warmer currents of classical ambient drift". His ultimate aim is to "aid in the navigation of various sleep-states by providing the appropriate soundtrack to deep inner journeying".

Michael is a multi-instrumentalist, using synthesizer, piano, and guitar to create his musical works. He has contributed to the Ambient Collective, the Drone Download Project on Dark Duck Records, and to Sequences music magazine. He has received airplay on Ultima Thule, WVKR Secret Music, and on StillStream.com.

Earth Mantra is excited to be releasing the music of Michael Meara, and we hope to bring our listeners much more from this superb artist in the future.
Earth Mantra Releases By Somnarium