Jake Jackson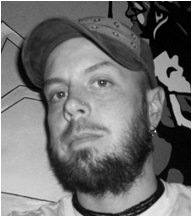 Contact This Artist:&nbsp: Click Here
Jake Jackson is an ambient musician hailing from Arkansas in the USA.

He has been playing music all of his life. mostly guitar-based, and has run the gamut genre-wise, playing punk, blues, livetronica, jamtronica, jazz fusion, psytrance, techno, space rock, and just about everything in between.

Recently, however, Jake was inspired to listen to ambient music by friends and fellow Earth Mantra artists Darren Harper, Jacob Newman, and Shane Morris. As Jake describes it: "Then Darren pointed me towards Lucette Bourdin and I heard her Golden Sun album. I was hooked. I had found the music to induce the trance state I was looking for". With Darren as a guide, Jake began "fooling around a bit with it", creating tracks that he only shared with friends. Eventually he "got sober and a little more serious about the music." Jake sees his music as "a reflection of my release from alcoholism. I became a Buddhist and started doing a lot of serious, heavy meditation. Silent sitting meditation, but listening to ambient music and producing it, kept me in that trance/meditative state".

Earth Mantra is very happy to bring the deep ambient music of Jake Jackson to our audience, and we hope to hear much more from him in the future.
Earth Mantra Releases By Jake Jackson