M. Peck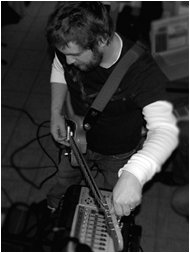 Artist Web Site: Click Here
Contact This Artist:&nbsp: Click Here
Breaking new ground in electronic music is by no means an easy task. Since the late 1990's, electronic musician M. Peck has been doing just that. He has earned the respect of critics, audiences and peers globally with his contributions to The Amaranth Signal, his collaborations with Mark Mahoney, as well as his various side projects including Kuwahara, ECHOTOMB and MaggotAppleWonderland. By using his fertile sonic imagination, and his ability to fluidly shift in and out of genres, his music seldom nestles itself into one category and truly becomes indefinable.

Peck likens himself to that of a surrealist painter, drawing on the abstract to reveal a much more definable approach to relating to the music. Or as he puts it: "seeing with your ears" but allowing enough familiarity for the audience to become enthralled and often transported by the music.

Never resting on his laurels, and working from the ethic of building a reputation rather than resting on one, he continues to forge ahead and take post-modern ambient music to new territories, offering new possibilities to today's complex compositions. Again, not an easy task by any means. Peck credits this ability simply by not ruling out any outside force as a source for influence, no matter how abstract it may be. In other words, playing it safe has no room in his repertoire.

Earth Mantra is proud to be bringing the music of M. Peck to our audience, and we hope to hear much more from him in the future.
Earth Mantra Releases By M. Peck