Sergio De Vega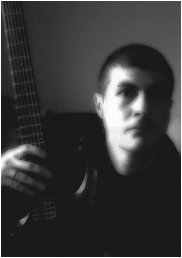 Artist Web Site: Click Here
Contact This Artist:&nbsp: Click Here
Sergio De Vega is an accomplished ambient artist originally from Gran Canaria, Spain, who has lived in Ireland since 2005.

Sergio started playing guitar a quarter century ago, and has always searched for ways to go beyond the usual language of the instrument. Some time around 1999, he began recording his music using a very simple MIDI keyboard, connecting his guitar straight into a computerís sound card. With that simple setup, Sergio began developing his own distinctive voice, a blending of the expressive world of the guitar with the infinite horizons of ambient music. Some of these pieces, recorded between 2002 and 2010, are available on the Internet Archive under the name Srg.

Following a lifelong ambition, Sergio has been studying sound engineering and media production in Dublinís Sound Training Centre for the last two years, a rewarding and fulfilling experience. His primary influences are "... so obvious that I really donít think I have to give any names, but here are a few anyway: Robert Rich, Brian Eno, Steve Roach, Erik Satie, La Monte Young, Robert Fripp and Vini Reilly".

Earth Mantra is very proud to bring the music of Sergio De Vega to our listeners, and we hope to hear much more from this talented musician in the future.
Earth Mantra Releases By Sergio De Vega