[mikra]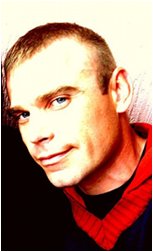 Artist Web Site: Click Here
Contact This Artist:&nbsp: Click Here
[mikra] is an experimental ambient pseudonym of Pavel Rassolko, an electronic artist hailing from Belarus.

An "underside project" of his electronic project ORGANISM, Pavel has packed into his various musical forms something personal: deliberate breaking of programs, technical noise, customized compressors, scraps from phonograph records mixed up with analog and virtual synthesizers, plus different "audiostuff" and found sounds.

The music of [mikra] exists somewhere in the realm of experimental electronics. Compositions are closely bound among themselves into a single whole that gives the listener distinct sensations, as if from a soundtrack from a particularly dark, eclectic, and suspenseful film. To Pavel, [mikra] is the full freedom of expression executed in the best traditions of Coil, Throbbing Gristle, Download, Non, and many others.

Earth Mantra is very happy to bring our listeners the music of [mikra], and we hope to hear much more from this fascinating artist in the future.
Earth Mantra Releases By [mikra]