Meho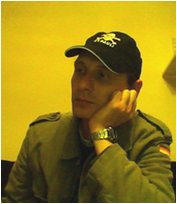 Contact This Artist:&nbsp: Click Here
Meho is an ambient artist who lives in Bosnia and Herzegovina, and Sweden.

Meho started early on listening to German electronic music acts such as Cluster and Klaus Schulze. At the same time, he started to record sounds and created mixes and sound collages using analog equipment. It was when he bought a computer that he started more actively to engage himself in electronic music,

Since then Meho has focused on a variety of textural, experimental, and dark ambient pieces, sometimes as a solo artist and sometimes with his brother. His music is an interesting fusion of sounds that are dualistic; both soothing and ominous, both smooth and gritty, both dark and light.

Earth Mantra is very proud to be bringing the music of this accomplished sound artist to our audience.
Earth Mantra Releases By Meho