Jarguna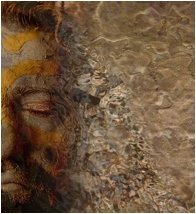 Artist Web Site: Click Here
Contact This Artist:&nbsp: Click Here
Jarguna is an ambient artist hailing from Italy who focuses on "therapy through sound".

In 1992, Jarguna embarked on a study tour of China, where he was introduced to the practice of Oriental medicine. During subsequent visits to Nepal, Mexico, India, Indonesia and, finally, in 2001, to the Amazon River, he met local people and engaged in a study of their music and symbolism, and their shamanic medicine; he studied their peculiarities, and had direct and indirect contact with their rituals and meditations.

Through all these experiences, simple and complex, Jarguna discovered that music and sounds may play a beneficial and therapeutic role. Harmonies and frequencies can intertwine, intervening with the whole organism, involving mind and body, acting on subtler planes as meridians and chakras.

Since the early eighties he has practiced martial arts, and since 1996 teaches Kung Fu and Taiji-quan at his association Shangri-la.

He currently teaches at a school in Holistic Reflexology Naturopathy, educating students on practical treatments and massages such as the Tui-na / An-Mon, Reflexology and herbal techniques. He imports medicinal plants from Burkina Faso and promotes a related product line. He is also working on the creation of a website dedicated to ethno-medicine, an interactive encyclopedia for practical consultation about the remedies and techniques outside conventional medicine.

Earth Mantra is very proud to bring the music of Jarguna to our audience, and we hope to hear much more from this talented artist in the future.
Earth Mantra Releases By Jarguna