Palancar - Ambient Train Wreck Back Catalog - Collection One (2007)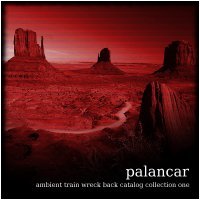 Earth Mantra #earman001

Format: 256Kbps MP3
Number of tracks: 10
Genres: Ambient, Electronic, Drone, Abstract, Dark Ambient, Experimental

Direct URL: earthmantra.com/trainwreckbackcatalog1
Release Mirror Site: Click Here
Visit This Artist: Click Here
Contact This Artist: Click Here

Download: #1 (440 MB) More Options Help

The first release in the series of Ambient Train Wreck back catalog releases by ambient/electronic artist Palancar.
One of the many aspects of Palancar's music is live performance, both in front of live audiences and over live net radio. As part of his weekly net radio program over the past several years, Palancar has done many live improvisational ambient performances, which the artist nicknamed "Ambient Train Wrecks" - and the name has stuck ever since. Everything heard in these tracks is live and untouched, except for mastering of the recordings themselves.
Note that Palancar has released several commercial collections of his favorite performances, under the title Ambient Train Wreck Series. Unlike those releases, the Ambient Train Wreck Back Catalog series contains the large number of train wrecks that have never been released commercially, and are only available from Earth Mantra.
All Earth Mantra releases are available under the Creative Commons Attribution - NonCommercial - NoDerivs 3.0 Unported license. For commercial use, please contact us.
Comments
September 13, 2009 - motasana
Palancar has become my new favorite artist, to me every session is unique and interesting. On this album i specially like the track 1 "April 29, 2006", so deep Thanks to Earth Mantra for letting me access this superb music.