EugeneKha - Black Heath (2010)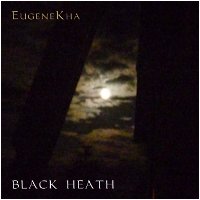 Earth Mantra #earman112

Format: 320Kbps MP3
Number of tracks: 6
Genres: Ambient, Electronic, Abstract, Dark Ambient

Direct URL: earthmantra.com/blackheath
Release Mirror Site: Click Here
Visit This Artist: Click Here
Contact This Artist: Click Here

Download: #1 (177 MB) More Options Help

Russian ambient artist and Renaissance Man Evgenij Kharitonov first released an album as EugeneKha on Earth Mantra back in March of 2009, with his super-cool electronic ambient space music release Distant Space. It is with great pleasure that we welcome Evgenij back to our humble netlabel, this time with a powerful and dark ambient release entitled Black Heath.

We use the term "Renaissance Man" deliberately. Not only is he an accomplished musician, with work spanning genres as diverse as ambient, IDM, techno, post-rock, and many other forms, he is also a poet, writer, and audiovisual artist. Despite the diversity of his work, or perhaps because of it, one of Evgenij's most astonishing attributes is that his every release is new, refreshing, and completely different from anything he has done before. It takes a true artist to be able to reinvent one's self over and over again, and to do it so consistently and over so many releases is just staggering.

This release is no exception. Unlike his previous work on Earth Mantra, with Black Heath Evgenij has created a truly ominous and foreboding collection of dark ambient pieces that are as equally scarey as they are beautiful. Truly, this is not music to be listening to in the dark on a cold, stormy night alone, unless one enjoys spine-tingling fear or the disturbing sensation that one is not alone in listening to the music.

For this is dark ambience in the truest sense of the phrase, replete with huge impenetrable walls of darkness, atonal and abstract textural soundscapes, and plenty of eerie surprises and things going bump in the night. The music is very active, not at all the mournful dirge that dark ambient often becomes, but instead almost the soundtrack to a particularly shocking horror movie. While listening, in our mind's eye we saw bonfires and torches, strange rituals performed amidst great stone edifices, and above all, storm clouds, some distant and some immediately above our heads. Truly startling stuff.

But despite the darkness, there is tremendous and compelling beauty to savor in this album as well, though it is often a powerful, commanding sort of beauty. The compositions themselves are to us the highest point of the release; Evgenij has done a remarkable job of taking simple motifs and building upon them until huge epic structures are created. One always has the sense that the music is intentionally designed and composed rather than happening as some kind of creative accident, which in the dark ambient world is rare indeed. Very nicely done.

Black Heath is truly a superb collection of dark ambient pieces, and one we are very glad to bring to our audience. We look forward to every release by EugeneKha, on Earth Mantra as well as other netlabels, and look forward to more from him in the future.
All Earth Mantra releases are available under the Creative Commons Attribution - NonCommercial - NoDerivs 3.0 Unported license. For commercial use, please contact us.
Comments
May 24, 2010 - Rob Miller
I liked your site