Alex Tiuniaev - Somewhere in the Open Country (2010)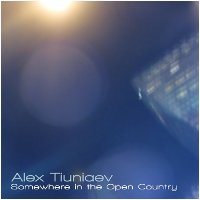 Earth Mantra #earman126

Format: 320Kbps MP3
Number of tracks: 4
Genres: Ambient, Electronic, Drone, Abstract

Direct URL: earthmantra.com/somewhereintheopencountry
Release Mirror Site: Click Here
Visit This Artist: Click Here
Contact This Artist: Click Here

Download: #1 (104 MB) More Options Help

Ambient musician Alex Tiuniaev returns to Earth Mantra with his newest release, a collection of lovely subdued ambient compositions called Somewhere in the Open Country.

Alex originally composed this music back in 2007, as part of a concept project called Moods, where every track represented an impression of a different atmosphere or mood. After working on this project a while, however, it became clear to Alex that these pieces were not really introverted emotional impressions at all, but were instead 'musical landscapes', each one evoking a sense of place, much like Brian Eno's famous On Land release. Following his muse, Alex took the project in a new direction, and the result was this intriguing album.

With Somewhere in the Open Country, Alex has delivered to us his musical interpretations of four completely different settings, ranging from a distant planet (on Intricate Blips from Outer Space), to a beautiful forest bathing in sunlight (Different Forest Creatures in Tokyo), and even to a spooky X-Files-like place with a weird title borrowed from a Radiohead song (I Wish that They'd Sweep Down).

The music is actually fairly unlike much of the previous material we have heard from Alex. He himself describes it as "probably my most ambient release, with no obvious melodies, rhythms or structures. Ambient music in the classical sense of the term." Indeed, we couldn't agree more. This album is a very deep dive, a collection of placid and genuinely soothing textural tone poems, but with just enough edge to keep the listener active and fully engaged. We've long been fans of Alex's work, but really feel this is some of the finest ambient music he's ever produced, a wonderful companion for a cold winter's night, or perhaps a Sunday morning coffee while watching the sun come over the horizon. Just straight-up great ambient music, and a release we highly recommend to everyone.

We are very proud to be releasing the ambient music of Alex Tiuniaev, and look forward to much more from this artist in the future.
All Earth Mantra releases are available under the Creative Commons Attribution - NonCommercial - NoDerivs 3.0 Unported license. For commercial use, please contact us.
Comments
September 12, 2010 - Richard VFA
Although each piece has a different theme they share the same mood: dreamy, lush, ethereal and otherwordly. It is a perfect album to unwind to, when you just want to detach from things.