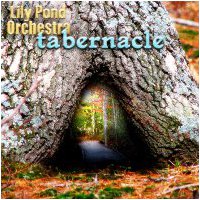 Earth Mantra #earman129

Format: 320Kbps MP3
Number of tracks: 3
Genres: Ambient, Electronic, Space Music

Direct URL: earthmantra.com/tabernacle
Release Mirror Site: Click Here
Visit This Artist: Click Here
Contact This Artist: Click Here

Download: #1 (344 MB) More Options Help

Earth Mantra welcomes symphonic ambient composer Douglas JP Lee to our list of artists, with his sublime two-disc ambient epic entitled Tabernacle, a collection of three longform ambient pieces of great beauty and inspiration.

We have listened to work from Lily Pond Orchestra in the past and enjoyed his refreshingly musical approach to ambient composition. But we were not prepared for what we heard the first time we listened to Tabernacle. The music retains all of Douglas's trademark compositional eloquence and maturity, but is also combined with very smooth and tasty sound design, presented in a highly polished and sweetly recorded production. We were blown away.

Thematically, Tabernacle covers topics as diverse as Gnostic parables, overcoming adversity, the illusions of daily life, impermanence, consensual reality, reverence, and the need people have to "believe that love, peace, and happiness exist hidden somewhere beyond them", all reflecting various aspects of the artist's philosophy.

Douglas reports that the music is actually from a larger work in progress, one which he says: "I am quite sure no one, not even myself, will ever hear in its entirety, as it stands at around 9 hours and is not complete." After hearing Tabernacle, we sure hope we are able to hear the rest of the composition, because Tabernacle is simply excellent, a mesmerizing collection of ambient pieces that feel both symphonic and electronic, weaving together some of the most intensely visual music we have heard in awhile. Turn off the lights when you listen to this one, and let your mind wander. An incredible experience, and a truly masterful album by any measure.

A few years back, Douglas was told by a family member, who suffers from chronic pain and is disabled, that when listening to Lily Pond Orchestra his blood pressure lowers and he feels some relief from the pain, to which Douglas says: "There is no other reason more pure to continue. That, and secondarily, I really enjoy making sounds." Well, we certainly enjoy the sounds as well. Earth Mantra is very happy to bring Lily Pond Orchestra to our listeners, and we hope we hear much more from Douglas in the future.
All Earth Mantra releases are available under the Creative Commons Attribution - NonCommercial - NoDerivs 3.0 Unported license. For commercial use, please contact us.
Comments
June 02, 2010 - Ric
Absolutely exquisite !!
May 31, 2010 - rick kearn
LPO has been a standby for me for several years now, and it's fantastic that Earth Mantra has heard and recognizes what I have enjoyed all along. And now, the Earth Mantra community will be introduced to this extraordinary composer. I couldn't be happier for Douglas JP Lee. Keep it going Doug!