usr/sbin - Incident At Triangulatum (2007)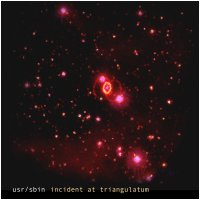 Earth Mantra #earman013

Format: VBR MP3
Number of tracks: 1
Genres: Ambient, Electronic

Direct URL: earthmantra.com/incidentattriangulatum
Release Mirror Site: Click Here
Visit This Artist: Click Here
Contact This Artist: Click Here

Download: #1 (107 MB) More Options Help

An epic tonal journey through the hinterlands of deep space.
All Earth Mantra releases are available under the Creative Commons Attribution - NonCommercial - NoDerivs 3.0 Unported license. For commercial use, please contact us.
Comments
August 31, 2010 - Richard VFA
Electric-guitar-based experimental ambient. The album is very interesting to listen to, it creates different atmospheres as you go along: calm & drifty, noisy & raw, ..., which altogether creates some nice visuals of space.