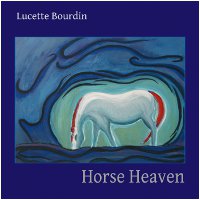 Earth Mantra #earman143

Format: 320Kbps MP3
Number of tracks: 8
Genres: Ambient, Electronic, Space Music

Direct URL: earthmantra.com/horseheaven
Release Mirror Site: Click Here
Visit This Artist: Click Here
Contact This Artist: Click Here

Download: #1 (155 MB) More Options Help

Lucette Bourdin is clearly in a zone. How a solo artist can so prolifically create album after album of pure beauty, without ever taking her eye off the ball, is quite beyond our capacity to explain or understand. But create copiously she does, her standard of excellence never wavering, her music ever enchanting the listener. And the latest in her sequence of ambient masterpieces is this delightfully mysterious album called Horse Heaven.

Knowing Lucette as we do, we might be tempted to offer an opinion as to the thematic content of this release. But we would be wrong to do so, because at the very least we would assuredly miss the mark. As with all of her creations, both musical and otherwise, there are multiple facets and numerous ways to interpret the meanings and messages she embeds within. Any one particular reading of her intent might be correct, as far as it goes, but cannot describe the piece in its entirety, for to do so would require the work to be considered from all perspectives simultaneously. To us, this is the definition of an enduring work of art: a piece that never fails to enlighten, one in which new details and ideas never cease to be found. And make no mistake: Horse Heaven shall endure.

Nevertheless, certain conclusions can safely be drawn.

One is that this album is possibly the most mystical of Lucette's releases, a collection of what we can only describe as ineffable prayers to the cosmos. Behind its subtle refrains, we can hear elements of both longing and contentedness, of both the organic and the celestial, of both the human and the divine, almost like the soundtrack to an out of body journey through the upper regions of space. To call the music radiantly gorgeous is to understate the case.

Another conclusion we can make is that this release is powerfully visual. One can imagine laying on a warm blanket somewhere in the deep desert beneath a midnight canopy of stars blazing across the great sky river. After listening to a few minutes of Horse Heaven, we are instantly transported there in a very real sense, the slow march of the heavens across the sky in perfect harmony with Lucette's sound sculptures and compositions. We listen to a lot of space music, folks, but we are very hard pressed to think of another album that so gloriously and triumphantly evokes the night sky.

A final conclusion that we will draw is that this must be one of Lucette's most intimate releases, one in which her true self is most clearly exposed and given willingly to the listener. Again, we might be tempted to interpret this for you, but we'll simply say that there is so much emotion and profoundness in this work that at the end it seems we know Lucette much better than we did at the start, as if we have made an achingly beautiful journey through the heart of a true artist and wise soul.

For we believe that Horse Heaven may possibly be Lucette's magnum opus, and certainly one of the most reflective and spiritual albums she has ever created. More than once, we found our eyes welling up with tears at the beauty and power of this simple music, and we think that you may well experience the same. An album we are very grateful and proud to bring to our listeners, this is simply one of the top releases of 2010. In our view, nothing less than music for the ages.
All Earth Mantra releases are available under the Creative Commons Attribution - NonCommercial - NoDerivs 3.0 Unported license. For commercial use, please contact us.
Comments
March 16, 2011 - Greg M (eyes cast down)
Ecstatic and transcendent, simply essential listening. Full review at my WordPress blog.
February 20, 2011 - Allister
Thank you Lucette for the music you gave us before your passing. You are an inspiration.
November 18, 2010 - Darrell Burgan
Played on Secret Music, WVKR-FM on November 14, 2010. See http://secretmusicwvkr.blogspot.com/2010/11/secret-music-playlist-november-14-2010.html ...
September 11, 2010 - mystified
Nice. Very beautiful, and full of feeling. From the more spiritual side of ambient. Great stuff.
September 05, 2010 - vaX
I'm gonna live inside this record through the end of September.. It's dissolving me out of me. Sincere gratitude, Lucette.