Fosel - Problem of Universals (C. Reider Remixes) (2010)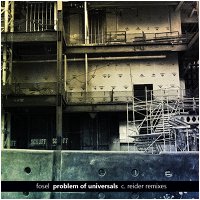 Earth Mantra #earman146

Format: 320Kbps MP3
Number of tracks: 5
Genres: Ambient, Electronic, Abstract, Dark Ambient, Experimental

Direct URL: earthmantra.com/problemofuniversals
Release Mirror Site: Click Here
Visit This Artist: Click Here
Contact This Artist: Click Here

Download: #1 (146 MB) More Options Help

Experimental ambient alchemist Kurt Nimmo returns to Earth Mantra with an invigorating new Fosel release entitled Problem of Universals (C. Reider Remixes).

Unlike Fosel's previous Earth Mantra release Couriers of the Air, this new album presents a collection of remixes of original pieces composed by C. Reider, off of his 2009 release Electret Quintet, itself a study of analog drum machines and their use in experimental electronic music. Where the Electret Quintet music pulses with the energy of experimental IDM, Problem of Universals instead conveys a more subdued vibe, packaged in a gritty and yet quite beautiful collection of electronica that explores ambience as thoroughly as it exudes the avant garde.

The music of this album simply fascinates. At first, the glitchy veneer suggests an air of almost ominous experimentalism. But in peeling back the layers, we expose a delightful heart of dreamy ambience, a delicious counterpoint to the more exotic outer shell. No doubt this originates in the dual influences of the two artists whose music went into this album, but the fusion of the two styles dovetails elegantly. Folks who enjoy the more experimental or noisy side of music will feel right at home with this release. But likewise, Problem of Universals will appeal equally to lovers of old school ambience who want their music a bit more approachable. Quite a clever balance Fosel strikes - very well done indeed.

In particular, we are struck by the diversity of the music in this album. Some pieces meander slowly through the sounds, inviting the listener to drift alongside. Others throb rhythmically amid subtle washes of sound, getting the blood pumping again. Still others wander through a desolate landscape of electroacoustic imagery that somehow still evokes a sense of melancholic charm. Literally something for everyone to be found in Problem of Universals.

So it is with great pride that we unveil the latest release from Kurt Nimmo, another example of his particular genius with the art of sound composition. Highly recommended to all of our listeners.

Note: those who are interested in C. Reider's original Electret Quintet can find it at the following link:

http://vuzhmusic.com/releases/electretquintet.html
All Earth Mantra releases are available under the Creative Commons Attribution - NonCommercial - NoDerivs 3.0 Unported license. For commercial use, please contact us.
Comments
February 21, 2011 - GagAgegreeDip
hi, new to the site, thanks.
September 25, 2010 - C. Reider
I am honored by Fosel's incredible remixes! He's done some terrific work here.
September 19, 2010 - mystified
Darned good. Nice spacious stuff, kind of tweaked in a cool way. Well worth checking out.