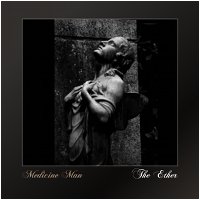 Earth Mantra #earman149

Format: 320Kbps MP3
Number of tracks: 26
Genres: Ambient, Electronic, Abstract, Dark Ambient

Direct URL: earthmantra.com/theether
Release Mirror Site: Click Here
Visit This Artist: Click Here
Contact This Artist: Click Here

Download: #1 (229 MB) More Options Help

Three years have passed since the last time Robbyn Trappen released a Medicine Man album on Earth Mantra. In fact, to the best of our knowledge, Robbyn has not released anything at all during this time, through any label or venue. But the wait certainly has been worth it, for today we proudly unveil The Ether, Medicine Man's latest album -- and possibly his magnum opus.

Listening to the music on this release, one clearly understands the source of the long gap between Robbyn's previous 2007 release, Cerulean, and today. Put simply, this album is huge. Epic, even. Twenty six tracks spanning an astonishing variety of ambient and electronic styles await the listener, with a tremendous scope and exacting attention to detail that we find deeply inspiring.

We are serious when we say that this album covers a lot of ground. The music ranges from grand cinematic scores to dark ambient tone poems to gritty abstract experimentalism, and even includes forays into areas resembling drum-n-bass, techno, and industrial. So be forewarned: this album does not deliver the drifty sort of relaxing journey one might encounter in many of our releases; instead, it carries the listener along on an extended dramatic journey through the psyche, through places that can only be called dark and disturbing, on to realms of transcendent beauty, and on again to pounding battle zones where armies duel for possession of the soul. Truly heavy and fulfilling material that leaves us breathless and wanting more.

As with Cerulean, Robbyn created The Ether as a direct reaction to his personal experiences in his every day life. Robbyn has the rare ability to see the events around him from multiple perspectives, and a gift for translating that vision into art that examines his interpretation of what he sees in novel ways. We would describe his compositional style as impressionistic, a fresh, slightly odd, look at the mundane joys and sufferings of our daily affairs, but eschewing the obscurity of pure abstraction. Very approachable music that nonetheless has the depth and detail to make repeated listens delightful. Be sure to check out the enclosed track notes document for Robbyn's fascinating commentary and background about each individual track.

All in all, The Ether packs a mighty punch, one of the most impactful and thought-provoking releases we have heard in a while. Clocking in at well more than ninety minutes, this is a very long album indeed, but those listeners who can dedicate the time to hear this album end to end will find themselves well rewarded. The Ether is an experience with a capital E, one of those artistic creations that leaves an imprint that stays with you for some time afterward. Truly a towering album, and one that Earth Mantra is very proud to present to our listeners. Highly, highly recommended.
All Earth Mantra releases are available under the Creative Commons Attribution - NonCommercial - NoDerivs 3.0 Unported license. For commercial use, please contact us.
Comments
November 20, 2011 - Medicine Man
Hey everyone, I've made a music video for the title track of the album. There were a lot of images in there that I wanted to render and it will help (I think) better convey the meaning of the piece as well as the mystical/futuristic scenery I intended to go with it. Check it out here: http://www.youtube.com/watch?v=T0SN4d2OaQo&feature=youtu.be.
August 05, 2011 - Wanderlust
I love the fact that among countless concept albums, we also get a much more personal album with one individual's emotional journeys.
October 26, 2010 - Dirck
What an album! Thanks to the artist for making it and thanks to EM for putting it online.
October 22, 2010 - Abstract Audio
Just discovered this archive and all it's possibilities. What better introduction then to start with this, what an album!! A day to remember.
October 21, 2010 - Mystified
Really cool stuff. For Earth Mantra, this is very dark, but I like that. Nice variety, cool textures and atmospheres.