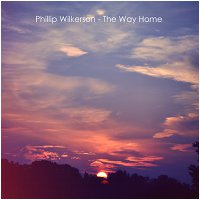 Earth Mantra #earman154

Format: 320Kbps MP3
Number of tracks: 12
Genres: Ambient, Electronic, Drone, Space Music

Direct URL: earthmantra.com/thewayhome
Release Mirror Site: Click Here
Visit This Artist: Click Here
Contact This Artist: Click Here

Download: #1 (221 MB) More Options Help

Among the profound rewards of running a netlabel is the opportunity to journey alongside an artist, to participate obliquely in the evolution and honing of their craft, and to chronicle the narrative of their creative pilgrimage through time. As part of this process, we come to know the human beings behind the recordings, forming professional and sometimes personal relationships that endure and enrich.

Phillip Wilkerson is one of those artists we have known for several years now, a musician of great skill and vision who has created some of the most moving and impactful music we have yet released on Earth Mantra, someone we are proud to call a colleague, collaborator, and friend. With his latest release The Way Home, Phillip presents a breathtaking extended collection of his early works, another chapter in the musical story he has written here on the pages of Earth Mantra.

There is a great deal we could say about this album, about how terrific the compositions are, about the stunning beauty of the sound design, and about the remarkable cohesiveness of the pieces, despite being created over a large span of time. But instead, we will let Phillip himself tell you about this magnificent release, in his own words:
"In early 2006, I focused on the creation of ambient music solely as a fresh means of self-expression.

"For the first time in many years, my life was peaceful and I was content to simply explore and create music for my own use that reflected calmness, tranquility, and hopefulness. Ambient music was the natural means for expressing those themes and I felt at home in the genre. At that time, I had no particular desire to share the music with the world, I merely wanted to create it.

"In the spring of 2007, I began thinking of music as the venture for the second half of my life. I began sharing (and scattering) my early efforts around the internet on numerous music sites.

"But once my intent changed, the music changed as well. The music I created between mid-2007 and mid-2009 was a means of finding my way as a musician, but not necessarily as an ambient musician. I wandered away from the ambient home I had created; however, my travels were valuable. I found the netlabels and began sharing my music through them. There were some quality ambient releases and tracks that came out of the journey as well, but they were scattered among the various releases.

"Yet, the ambient music I had created early on continued to be the best of my efforts, and the most popular. In fact, my early works (as they came to be known), were increasing in popularity over that same time span.

"In late 2009, it finally dawned on me that ambient music was the true and natural path for me to follow. I focused intently on improving my musical ability and the means of recording my material. That path led me to create Daybook, Sun Tracer, and Interplay -- and all of them were received enthusiastically. The early works, however, still needed a permanent home on the internet, so I approached Darrell Burgan about releasing a collection. I wanted this collection to be among the releases of ambient artists I consider mentors and family, at a place I consider a permanent address: Earth Mantra Netlabel.

"Here then, are my early works, along with other ambient tracks gathered from around the internet. A few are tracks from 2010 that weren't on a specific release. Now they are all together and hopefully, best represent my musical journey so far. I think of these tracks as the trail markers that helped me find the way home."
We are indeed proud to present this comprehensive collection of Phillip's musical origins, and are very happy to welcome him home. An exquisite release to which we give our highest of recommendations.
All Earth Mantra releases are available under the Creative Commons Attribution - NonCommercial - NoDerivs 3.0 Unported license. For commercial use, please contact us.
Comments
February 04, 2011 - Dale Humphries
Simply beautiful.
November 22, 2010 - Andi
Wonderful.
November 22, 2010 - George L Smyth (Sounds Of Ambience)
Wonderful stuff, as expected. It is a great idea to have a permanent location to which I can point people. This is a collection I'll be burning to CD to accompany me throughout the stress of holiday travel.
November 22, 2010 - Fellirium
I must say that I always preferred Phillip's ambient works more than experimental. It is good to see him going back 'home'. :)
November 21, 2010 - zerofish9
We all need to seek out and experience multiple versions of ourselves..internet/mind traveling, all good my man=it's "The Way". I luv all the various PW mixology, but,I also really dig the ambient blueprint..welcome home man! ;-)
November 21, 2010 - Kurt Nimmo
Good stuff, Phil.
November 21, 2010 - Mystified
Really Great! These pieces are very nice, really the essence of Phillip's work. I definitely urge people to have a listen. The songs give ethereal a new meaning.
November 21, 2010 - Susperia-Electrica
I feel like I'm floating on a space ocean when I listen to your ebb and flow. Superb album...one not to be missed by those who have a love of great ambient music. Thanks'