Altus - Excursion One (2007)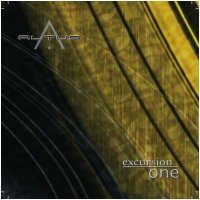 Earth Mantra #earman016

Format: FLAC and MP3
Number of tracks: 2
Genres: Ambient, Electronic

Direct URL: earthmantra.com/excursionone
Release Mirror Site: Click Here
Visit This Artist: Click Here
Contact This Artist: Click Here

Download: #1 (371 MB) More Options Help

Introducing the first release of a new series from Altus to be distributed freely by Earth Mantra Netlabel.

After treading through the dark overtones of "Only One Earth To Destroy", Altus takes you back to his usual melodic ambient style. Although the two-track release is quite active, it's still easy to allow yourself to close your eyes and drift to the sounds once you've settled into the track.

Be sure to check out www.altusmusic.ca for more free music.
Special note: the download for this recording includes both MP3 and FLAC formats. Unlike MP3, which throws away some of the audio data in order to achieve high compression, FLAC is a lossless format that is identical in quality to the original audio signal. For more information about FLAC, please visit the FLAC home page.
All Earth Mantra releases are available under the Creative Commons Attribution - NonCommercial - NoDerivs 3.0 Unported license. For commercial use, please contact us.
Comments
July 25, 2011 - Christian Doil
You can dive in a world of shimmering lights.
November 03, 2010 - Kelda
As this beautiful music gentles my mind and removes all outer stress I hear my life harmony in sync with my soul, ambience at its best, many thanks for sharing, Kelda
January 10, 2009 - Alex Tiuniaev
This is an incredible release, one of my absolute favorites on EM, and one of the finest ambient releases! Both symphonic and atmospheric, full of beautiful details and hidden textures! Great work!