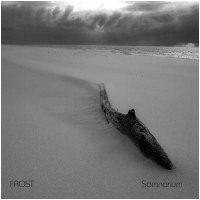 Earth Mantra #earman160

Format: 320Kbps MP3
Number of tracks: 5
Genres: Ambient, Electronic, Drone, Space Music

Direct URL: earthmantra.com/frost
Release Mirror Site: Click Here
Visit This Artist: Click Here
Contact This Artist: Click Here

Download: #1 (162 MB) More Options Help

We at Earth Mantra have long been fans of the enigmatic ambient music of Michael Meara. So you can imagine our delight at the prospect of releasing something by this superb artist, a prospect now a reality with our latest release: an album by Michael's Somnarium project called Frost.

And what a lovely album we have in store for our listeners, a collection of gorgeous ambient pieces falling somewhere in between the realms of light ambience and ambient drone, with an enchanting orchestral flavor and expertly arranged layers of synthesizers, lap steel guitar, processed piano, electric guitar, manipulated vocals, and radio signals. Spanning a full seventy minutes of audio, with two tracks nearly twenty minutes apiece, this is indeed a deep dive into the mesmerizing sound worlds of Somnarium.

Motivated by a fascination with arctic vastness and the impact such extreme environments can have on the human psyche, Michael's original inspiration for Frost drew from accounts of polar expeditions conducted in the early twentieth century. Thematically, the music certainly evokes the scope and distance of such vistas, but we have to confess that we hear little coldness when we listen to Frost. In fact, we might describe this music as uplifting, or even heart warming, almost the antithesis of the stated interpretation. But perhaps this is where Meara's singular genius shines forth the most, his ability to blend two opposites into a whole that somehow exceeds the sum of its parts. No matter what the interpretation, however, the music speaks for itself.

The compositional strength and instrumentation in Frost simply blows us away. Michael aimed from the outset to utilize "a more orchestral based approach", and indeed he has created a distinctive fusion of electronic and symphonic instruments that coalesce perfectly, with voicings that delicately pull on the strings of the emotions without going over the top, and with a sound design that can only be described as beautiful. A truly masterful achievement.

So with great pleasure we unveil the twenty-fourth album by Michael Meara, the resplendent and inspiring Somnarium album Frost. May it be just the first of many Earth Mantra releases by this gifted artist. Highly, highly recommended.
All Earth Mantra releases are available under the Creative Commons Attribution - NonCommercial - NoDerivs 3.0 Unported license. For commercial use, please contact us.
Comments
January 26, 2011 - Radio Regentrude - www.radio-regentrude.de
Excellent music! Makes the thoughts flow and helps to relax. Perfectly done music!
January 25, 2011 - PhilH654
Another excellent ambient release from the always consistent Earth Mantra label. The first track "Polar Night" is my favourite piece. A beautiful refrain that progresses majestically in a serene manner, with the subtle introduction of oboe and piano & embellished throughout with expertly crafted orchestral washes. The ongoing layers are beautifully placed ensuring that interest is maintained throughout, despite the almost 20min running time. The whole album is thoroughly recommended for headphone listening at night. Great work.
January 23, 2011 - mekydro
This album pictures perfectly the stark and natural beauty of the Earth's Polar regions. Let yourself be carried to a vista of ice, snow and frost, untouched by the hand of man. The music captures the beauty but perhaps not the raw power and harshness of the snowscapes which were such a challenge to the early explorers. Having said that I rate it very highly for unwinding the soul, especially the relatively formless first track. A superb composition.
January 21, 2011 - Sethmol
Somnarium is the work of Michael Meara's ambient orchestral movements. His goal is to create soundscapes for sleep states and various forms of inner journeys. This album is very atmospheric but not in an engaging way. It is something to have on in the background. I don't recommend it for a conscious state. It is best played while meditating or while trying to achieve an subconscious state of mind. It is difficult to consider this an album in the normal sense; it's more of a series of orchestral movements for the soul. There is not much emotional expression in these pieces. They were inspired by isolation and human endurance during the polar expeditions of the early 20th Century. There is a sense of loneliness but it is not dark enough to truly express the isolation felt by someone in the middle of nowhere. The album starts out very dull with a long monotonous track. Repetition is essential to drone works but there still needs to be enchantment to keep someone listening. As the album continues the pieces get progressively more stimulating, like an advancement to a higher state of consciousness. An album of this degree is meant to be played while attaining spiritual fulfillment. If listened to the way it was made for, it can help you drift along your brain waves and awaken your senses to a more aware world.
January 21, 2011 - SourceCodeX aka John W Patterson
Superb! Michael Meara has hit my ambient nail on the head with this one! He has sent us, (EER-MUSIC.com), his superb ambient works before and they are always stellar blissforms. Great job Michael! I am V-ing this one right now . . . Thanks again for the wide-expanse-bliss!
January 19, 2011 - Lisafergus
Fabulous music, the first track at times reminds me of Harold Budd. Recommended.
January 18, 2011 - HRO
Smooth music to easy the mind! Great album. it is as deep as Stephen Philips' "Lightness of Being" with hints of the amazing Tim Story. But sometimes like a darker Arcticology. Enjoy!