usr/sbin - Nova Anglia, Terra Nova (2007)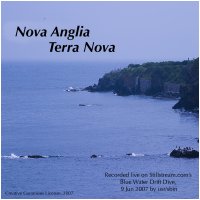 Earth Mantra #earman017

Format: 320Kbps MP3
Number of tracks: 1
Genres: Ambient, Electronic

Direct URL: earthmantra.com/novaangliaterranova
Release Mirror Site: Click Here
Visit This Artist: Click Here
Contact This Artist: Click Here

Download: #1 (143 MB) More Options Help

"Nova Anglia, Terra Nova" (which means "New England, New Land" for folks who aren't fluent in Latin) is a journey from places well-known to those new and not-so-well-known; a harmonic and melodic journey to engage our senses of old and new, strange and familiar.

This piece was recorded live on June 9, 2007, as a live net radio performance on StillStream.com's "Blue Water Drift Dive" program. During the concert, the artist (Dennis Moser) used a Godin xtSA guitar, a Roland GR-1 guitar synthesizer driving software synths in Apple's Garage Band, an Ebow, a cluster of three Lexicon Vortex audio morphing processors, a Lexicon MX200, and a pair of Boss DD-20 GigaDelay pedals to produce this single take performance.
All Earth Mantra releases are available under the Creative Commons Attribution - NonCommercial - NoDerivs 3.0 Unported license. For commercial use, please contact us.
Comments
November 03, 2010 - Dennis Moser
Kelda, I swear...no digeridoos were harmed in the performance of this work (see liner notes above!)...I just abused my Godin xtSA guitar...
November 03, 2010 - Kelda
This music with its strong didgeridoo undertones reaches out and reverberates my inner fibre, gentle and soothing I reach my iced zone with ease. The new land could probably be Australia.