Palancar - Crooked Little House (2011)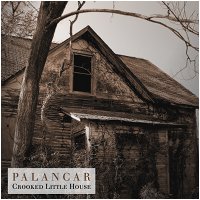 Earth Mantra #earman174

Format: 320Kbps MP3
Number of tracks: 7
Genres: Ambient, Electronic, Abstract, Dark Ambient

Direct URL: earthmantra.com/crookedlittlehouse
Release Mirror Site: Click Here
Visit This Artist: Click Here
Contact This Artist: Click Here

Download: #1 (178 MB) More Options Help

Palancar returns to Earth Mantra with a brand new studio album, this one quite different from his previous effort Serenitatis. Called Crooked Little House, this is a collection of dark visceral ambience unlike anything else he has previously released.

The music is thoroughly textural and abstract, embracing the world of dark ambience unapologetically. The artist prefers to keep the thematic interpretation personal, but will share that the music is meant to evoke a strong emotional response in the listener, to inspire deep and honest thoughts about difficult subjects, a cathartic experience. Darrell hopes that the music succeeds in providing the right atmosphere for this sort of contemplation, and that the music helps people reach through the veil in some small way.
All Earth Mantra releases are available under the Creative Commons Attribution - NonCommercial - NoDerivs 3.0 Unported license. For commercial use, please contact us.
Comments
September 04, 2012 - Somebody
This is the one you was looking for if you are after th great feelings of dirt, rotten wood, dark scary and silent places, bugs and other calming your soul stuff. This album brings you real feelings, very soul-touching, plus give some creep. Thanks to the great Palancar. Personally, I think the 'Crooked Little House' track doesn't fully open that kind of theme. It feels like you're in a room with some noisy bugs, yet it's creepy enough to not listen to it at night. Other track are simply stunning, true horror movie soundtrack.
January 19, 2012 - cpmcdill [Webbed Hand]
A very well constructed collection of ambient/dark ambient/drone tracks, with a variety of sounds both organic and synthesized seamlessly woven together. Also noteworthy is the high production quality.
June 07, 2011 - muteant
amazing stuff, your touch and control on this are near-peerless, thanks! gives freely-available music a good name.
April 15, 2011 - EugeneKha (Evgenij V. Kharitonov)
Deep textures! Very great! Thanks for the music!
April 14, 2011 - Shane Morris
Deep textures & spacious soundscapes! Lovely work
April 14, 2011 - Mystified
Neat stuff, very creepy, with lots to hear. Check it out!