Palancar - Elysium Planitia (2011)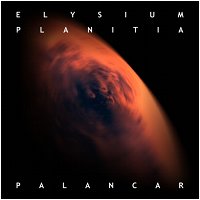 Earth Mantra #earman179

Format: FLAC and MP3
Number of tracks: 8
Genres: Ambient, Electronic, New Age, Space Music, Drone

Direct URL: earthmantra.com/elysiumplanitia
Release Mirror Site: Click Here
Visit This Artist: Click Here
Contact This Artist: Click Here

Download: #1 (413 MB) More Options Help

We have another Palancar release in store for you today, this time a re-release of a title originally from 2003. Called Elysium Planitia, this is a collection of ambient space music that was described by one fan as "the quintessential Mars album". Originally released commercially on Blue Water Records, this album is now re-released and available freely under Creative Commons via Earth Mantra.

The 'prequel' in many ways to Darrell Burgan's 2010 Palancar release Serenitatis, Elysium Planitia is intended to be a sound track to accompany an imaginary visit to the red planet. Each piece is named after a particular location on Mars, and each attempts to evoke the sights and sounds that one might experience if one could visit such an exotic locale. Unlike Serenitatis, the music of this release is more tightly focused on pure space music, with more emphasis on ambience and sound design, and correspondingly less rhythm and traditional melody.

Though the album is primarily solo pieces, Palancar was joined by Gwydi on Aureum Chaos, and by FootFall on Olympus Mons.

Darrell is proud of the music in this album, and hopes listeners find the music both enjoyable and inspiring.
Special note: the download for this recording includes both MP3 and FLAC formats. Unlike MP3, which throws away some of the audio data in order to achieve high compression, FLAC is a lossless format that is identical in quality to the original audio signal. For more information about FLAC, please visit the FLAC home page.
All Earth Mantra releases are available under the Creative Commons Attribution - NonCommercial - NoDerivs 3.0 Unported license. For commercial use, please contact us.
Comments
December 22, 2012 - MelmothX
Great, magic release! Thanks a lot for this.
August 30, 2012 - Somebody
Great record for travelling hard far far away from current planet sitting in your comfortable chair. Travel farther than the Mars is severly needed.
August 06, 2012 - Metlay!
Of all the Palancar albums I love, this is still my favorite. A triumph of ambient space music and absolutely not to be missed.
July 29, 2011 - Wanderlust
I'm now listening to this immense album for the sixth time in a row and I know I'll listen to it even more. A great achievement which at moments reminds me of Vangelis at his best, but also a wonderful album in and of itself.
July 03, 2011 - Tetriarch
I love Space music and i couldnt find some music of this kind. Until now... Wow its so ammazing... Perfect I love it...
June 03, 2011 - EugeneKha
Magic music! I love this!!!!
June 01, 2011 - Stellardrone
Wow, this is incredible music. "Cydonia Mensae" reminds me Vangelis and his soundtrack for Blade Runner (some other tracks too). Great great album with an old-school and new age vibe.
May 31, 2011 - Altera Enigma
This is an incredible piece of work.I have been listening to it non stop since downloading. Thank you to both Palancar & Earth Mantra for making this (freely) available.
May 31, 2011 - silvercord
listening now and enjoying my trip to Mars!