Palancar - Diminishing Light (2011)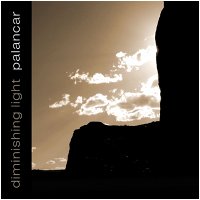 Earth Mantra #earman183

Format: FLAC and MP3
Number of tracks: 8
Genres: Ambient, Electronic, Drone, Abstract, Dark Ambient

Direct URL: earthmantra.com/diminishinglight
Release Mirror Site: Click Here
Visit This Artist: Click Here
Contact This Artist: Click Here

Download: #1 (575 MB) More Options Help

Today we have another Palancar re-release by Darrell Burgan to offer our listeners, an album originally released commercially in 2006 called Diminishing Light.

This is a collection of diverse ambient pieces, sometimes reflective and thoughtful, other times gloomy and intense, but always moody and simmering with a barely-restrained energy. Unlike Darrell's more recent work in the digital realm, this album was made with a heavy emphasis on outboard synthesis, particularly analog synthesizers, and was mastered to magnetic tape. Some of the music in this album is quite abstract and dark, whereas other pieces shimmer with arpeggiated and sequenced electronics, while still others fall somewhere in the realm of textural sound design. Hopefully there is something here for everyone to enjoy.

Darrell hopes that folks enjoy Diminishing Light and find the music in it to be fulfilling.
Special note: the download for this recording includes both MP3 and FLAC formats. Unlike MP3, which throws away some of the audio data in order to achieve high compression, FLAC is a lossless format that is identical in quality to the original audio signal. For more information about FLAC, please visit the FLAC home page.
All Earth Mantra releases are available under the Creative Commons Attribution - NonCommercial - NoDerivs 3.0 Unported license. For commercial use, please contact us.
Comments
December 31, 2011 - Susperia-Electrica
Listening and downloading. So far, I'm blown away with this album. Happy New Year to you! Hope it's a good one!
August 09, 2011 - EugeneKha
It's realy awesome! Fantastic atmosphere!
August 08, 2011 - Medicine Man
Awesome, I was hoping this one would get released on here. I've had part of the CD from mp3 downloads on your old site and liked those, so I'll be interested to hear the rest. Diminishing Light is one downright creepy and very distinctive track.
August 04, 2011 - Gonzalo de Lara
Another amazing work!