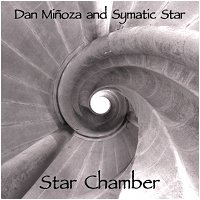 Earth Mantra #earman195

Format: FLAC and MP3
Number of tracks: 1
Genres: Ambient, Electronic, Drone, Abstract, Space Music

Direct URL: earthmantra.com/starchamber
Release Mirror Site: Click Here
Visit This Artist: Click Here
Contact This Artist: Click Here

Download: #1 (397 MB) More Options Help

As the heat descends on the northern hemisphere, we instinctively search for respite, for a place of shade and shelter. Fortunately for us, the new release by Dan Minoza and Symatic Star, entitled Star Chamber delivers a glacial, soothing ambient experience perfectly suited for listening during long afternoon siestas.

We don't know if this represents the first collaborative release by these two accomplished artists, but we certainly hope it is not the last. Blending diverse influences like drone, space music, textural, and even dark ambience, Star Chamber has a lot for listeners of ambient music to love.

The sound design slowly ebbs and flows between the long notes of tonal drone, to the long vistas of textural soundscapes, and back again. Remarkably, these artists have managed to layer an abstract tone poem, chilling us to the bone, atop a warm bed of synthetic drones, a particularly lush synchresis of elements that we find truly compelling.

A single piece clocking in at over forty-nine minutes, this is certainly a long player, but one that suspends time, holding the listener in a state of rapt dreaminess from start to finish. The final result is particularly cinematic in nature, the kind of ambience that would be completely at home as the music for a art house film or as the sound component of a singularly powerful art installation. Kudos to the artists for creating such a strangely beautiful work of immense scope and intricate detail.

So with great pleasure, Earth Mantra unveils Star Chamber, the latest release by ambient virtuosos Dan Minoza and Symatic Star, an album we think our listeners will enjoy immensely in these dog days of summer. Highly, highly recommended.
Special note: the download for this recording includes both MP3 and FLAC formats. Unlike MP3, which throws away some of the audio data in order to achieve high compression, FLAC is a lossless format that is identical in quality to the original audio signal. For more information about FLAC, please visit the FLAC home page.
All Earth Mantra releases are available under the Creative Commons Attribution - NonCommercial - NoDerivs 3.0 Unported license. For commercial use, please contact us.
Comments
September 29, 2012 - JU
This is a wonderfully rich and compelling soundscape. I love the edgy textures.