Virtholi - Mythology (2007)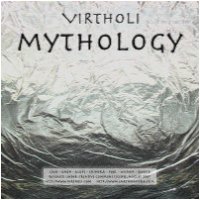 Earth Mantra #earman020

Format: 256Kbps MP3
Number of tracks: 7
Genres: Ambient, Electronic, Abstract, Dark Ambient

Direct URL: earthmantra.com/mythology
Release Mirror Site: Click Here

Download: #1 (114 MB) More Options Help

Virtholi's debut Earth Mantra album entitled Mythology explores aspects of world mythology in sonic form.

Cave and Pool represent the idea of sacred places that were often sites of worship or divination. Omen invokes the belief in messages from beyond appearing in the form of animals. Aloft and Wisdom reference the inner voyages taken in meditation or altered states of consciousness. Chimera relates to the belief in animals that never actually existed. Finally, Beyond contemplates that which lies beyond mortality.
All Earth Mantra releases are available under the Creative Commons Attribution - NonCommercial - NoDerivs 3.0 Unported license. For commercial use, please contact us.
Comments
January 17, 2011 - Billi Marco in art jarguna
Hi I make you so many compliments! your music has immediately struck me.