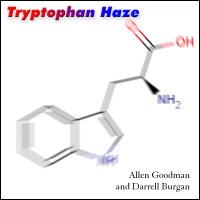 Earth Mantra #earman027

Format: 256Kbps MP3
Number of tracks: 3
Genres: Ambient, Electronic, Drone

Direct URL: earthmantra.com/tryptophanhaze
Release Mirror Site: Click Here
Contact This Artist: Click Here

Download: #1 (129 MB) More Options Help


Tryptophan Haze is a set of three live ambient improvisations performed by Allen Goodman and Darrell Burgan on November 24, 2007, live on StillStream.com before an internet audience from around the globe.

The story goes like this. One day, on a lark the artists decided to do several live improvisations on Darrell's net radio program on StillStream.com, only a few hours before the broadcast began. Despite the last minute nature of their setup, these performances were the result. After the broadcast, Allen and Darrell both felt that the performances that night were special and needed to be released, hence this album.

Part One is a solo improvisation performed by Allen; similarly, Part Two is an improvisational solo performance by Darrell.

Part Three, however, is a duet improvised in real time by both Allen and Darrell, using the ninjam net collaboration tool:



Many kudos to Cockos Incorporated for making such an incredibly useful tool available freely to the community!

All Earth Mantra releases are available under the Creative Commons Attribution - NonCommercial - NoDerivs 3.0 Unported license. For commercial use, please contact us.
Comments