Different Skies - Strange Lines and Distances (2007)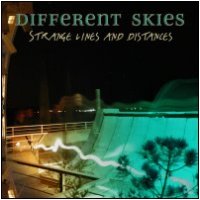 Earth Mantra #earman028

Format: 320Kbps MP3
Number of tracks: 6
Genres: Electronic

Direct URL: earthmantra.com/strangelinesanddistances
Release Mirror Site: Click Here
Visit This Artist: Click Here
Contact This Artist: Click Here

Download: #1 (76 MB) More Options Help

On October 18, 2007, the twenty musicians of Different Skies 2007 came back to their rigs on the main stage at Arcosanti after a lovely dinner and a few drinks each, sat down, and began to improvise.

The concept of live electronic improvisation isn't new by any means. But there's a difference between improvisation among one, two, or three musicians, and improvisation among twenty of them. When you've created a veritable orchestra of electronic musicians, any one of which has enough gear to carry a full song arrangement on his own, putting them on the same stage and yelling "GO!" carries one hell of a set of risks.

The mantra of Different Skies is and has always been, "Listen Twice / Play Once." In a setting like this one, it is vital that musicians use their ears and only venture onto the canvas very gingerly to add their colors to the palette. Mistakes happen often, and there is the ever-present risk of piling noise upon noise until the result is impossible to listen to.

But when these problems are circumvented, the results can be magical.

On this night, the musicians jammed for two hours without a break, with a small audience of Arcosanti residents in the Colly Soleri Amphitheatre and somewhat more of an audience on the Internet via StillStream and Second Life (thanks to Bibi Book for the SL rebroadcast).

Twenty musicians ... many of whom had never met one another before the previous Sunday ... all on a stage at once ... with no one telling them what to play or not play. These are not excuses, they are merely the conditions under which this album was created. The music the artists feel happy about having you hear, without excuses, is contained in this album. Listen twice...

P.S. Be sure to check out the companion release, also available on Earth Mantra, which contains music from the live improvisations by the same crew on the following night.
All Earth Mantra releases are available under the Creative Commons Attribution - NonCommercial - NoDerivs 3.0 Unported license. For commercial use, please contact us.
Comments
January 20, 2011 - Jim
I have listen to the 2 releases a few times now, and can say that I have enjoyed them alot! Tho there are miscues around, the overall feel is good. And after checking out the Different Skies site I just might make the trip one of these days. Well worth the download IMHO....